Webcam

Imagine the perfect vacation:
One or more weeks of complete relaxation in the Swiss Alps.

Quiet motor vehicle-free rustic village with unique access by Riederalp aerial tram
or by car to the edge of the village.

Stunning view of the major scenic wonders that define Switzerland.

Physical rejuvenation: walking, hiking, climbing, skiing, golfing, swimming, etc.

Gourmet dining.

A home base for sight seeing in Switzerland and central Europe.
Find all this and more at Ferienhaus Montanara!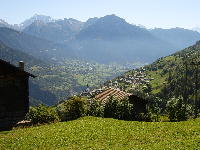 Haus Montanara is located in the southern Swiss Alps, in the canton of Wallis/Valais, on a sunny south-facing hillside above the Rhone River, at the mid-station of the cable car route from Mörel to the Riederalp/Bettmeralp resort. Continue to the top, and a short walk will take you to the Aletsch Glacier, the largest in the Alps at 15 mi/24 km long! The house was built in the traditional chalet style of the region, with totally modern amenities. Our comfortable 1-bedroom/1-bathroom vacation apartment offers a kitchenette and beds for up to 4 guests. Step onto the private balcony for spectacular mountain and valley views. Great hiking, climbing, and skiing—in a pastoral alpine setting—are just outside the door. Please browse this website for pictures of the Aletsch Glacier region, the village of Greich, and of course, our accommodations.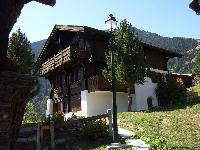 Many of the structures in the tiny village of Greich date to the 1600's. Haus Montanara was built in 1987 by a local man who appreciated the charm of the centuries-old buildings in this village and was careful to make his new home blend in seamlessly. After he died, Haus Montanara was bought by 4 families in the United States, 2 of which have Swiss citizenship. The main floor is used by the owners as a personal vacation house. The lower level apartment is rented permanently. The vacation rental is on the top floor.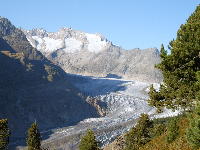 Contact:

Marcus Bryner
1430 Andy Griffith Dr.
Grants Pass, OR 97527 USA
541-227-8485 (cell)



Anti-Spam Bots!