Webcam

Directions: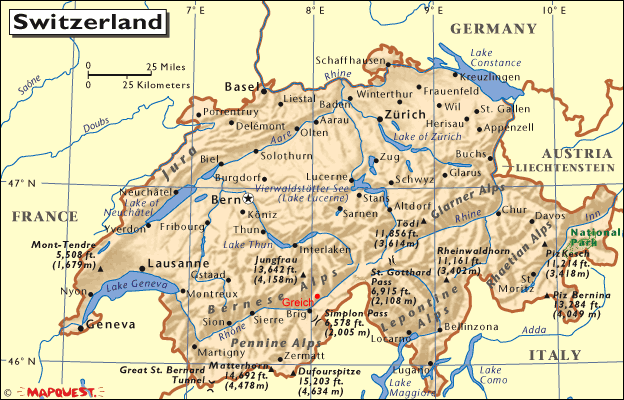 House address for GPS:

Haus Montanara
Dorfstrasse 32
CH-3987 Greich Switzerland


By Train:

From Zurich city/Airport/Bern/Geneva/Basel, there are many direct trains to Brig.
From Brig take the local narrow gauge train, Matterhorn-Gotthard Bahn, toward Andermatt for 2 stops (about 10 mins) to Morel.
From Morel, take the cable car (timetable 2008) to the mid-way stop at the village of Greich.

The Swiss Railways (SBB) website has detailed iteneraries from anywhere in Switzerland and many cities in Europe.

The Swiss Travel System website offers many types of train passes, discounts, and travel ideas.

By Car:
From Northern Switzerland, take the freeway to Bern, then to Spiez. Follow the directions to the Lotschberg tunnel. There is car transport (***link)(***new tunnel) by train through the tunnel every 1/2 hour for a reasonable price. After exiting the tunnel, follow the signs to Brig.


From Brig follow signs East toward Andermatt/Furka Pass. After arriving in the town of Morel, leave the car in the parking lot and take the cable-car to Greich. Alternatively, you can take a one-lane road to the left in Morel toward Betten-Goppisberg-Greich where there is a small parking lot outside the village.


From Lucerne/Luzern, drive over the Brunig Pass South of Lucerne to Interlaken. Then follow the signs to the Lotschberg tunnel. From there, see "from Brig" above. Alternatively, from Lucerne, you can go over the Gotthard Pass to Andermatt, load your car on the car transport train in Realp through the Furka tunnel. Then drive down the Rhone valley toward Brig (West). When you arrive at Morel, see "From Brig" above.


From Western Switzerland/Geneva, take the freeway toward the Rhone Valley/Sion/Brig. After reaching Brig, see "from Brig" above.


From Southern Switzerland and Italy, it's probably easiest to use the car transport by train through the Simplon tunnel to Brig. Alternatively, go over the Simplon pass to Brig, then follow directions above.




Maps: (Note: these links are high quality large images (>500kb), and may take a long time to download on dialup connections.)


Detailed Swiss Railway Map

(Click here for even more detailed map.)
Aletsch region/Riederalp in Summer
Aletsch region/Riederalp in Winter
Newer Aletsch region/Riederalp Ski Map
Switzerland Language Map